My tree this year....I could'nt get the picture looking like this last year, but with my new camera im please with it & it show's up the light's like i wanted it too....
My baby in heaven, LOUISE, we have a bear to remember her by she has a heart & a sounding msg inside her & every event she has a change of cloth's, this is her christmas outfit....
And it's about time i did something for myself, i wanted a haircut, I needed a haircut & even though i want to grow it, i wanted a really short style to start again with, kwim?
So i have a bob.......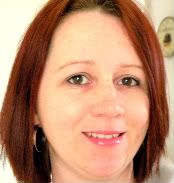 Happy day's.